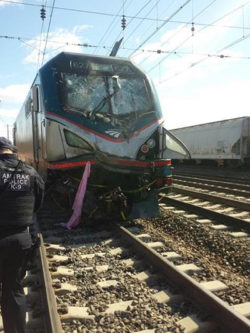 On April 3, 2015, Amtrak passenger train 89, traveling from New York City to Savannah, Georgia struck a backhoe near Chester, Pennsylvania, killing the backhoe operator and a supervisor. The train was carrying 337 passengers and seven crew members when it struck the backhoe at 110 mph.
This week, the National Transportation Safety Board made public its docket of the investigation, including hundreds of pages of interviews, test results and analyses.
Among the injured was engineer Alexander Hunter. Although Mr. Hunter's post-accident toxicological testing showed a very small level of cannabis in his system, the NTSB records make clear that Mr. Hunter was not impaired and in no way a cause of the accident.
The NTSB records demonstrate that Mr. Hunter handled his train well in response to the peril ahead, keeping his eyes on the track, applying the braking system, and sounding the warning horn to the last possible second, before crouching behind the consul in self-protection mode, as engineers are taught to do.
Mr. Hunter's lawyer, Philadelphia transportation attorney William L. Myers, Jr., pointed out, that, "locomotives have no safety belts, no airbags, no protection whatsoever for engineers facing collisions. So, for Mr. Hunter to remain seated as the train approached the backhoe at more than one hundred miles an hour and sound the horn to warn the track workers was actually very brave."
Members of the media are encouraged to contact attorney Myers at (215) 988-1229 should they wish for clarification regarding the NTSB's findings.