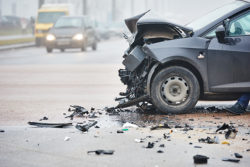 We often think of automobile accidents as things that happen to "other people." How many times have you driven past an accident site or seen a wrecked car on the side of the road and been relieved that it wasn't you? If you're lucky, you've never been in a serious accident or suffered an injury in a car crash, but you never know when your good luck might run out.
According to the National Highway Traffic Safety Administration, about 1 out of every 45 motor vehicles registered in the United States was involved in an accident in 2014. One out of every 2.6 motor vehicle accidents caused injuries, and about 1 in every 200 accidents resulted in a fatality.
Those odds might seem to be pretty good, but here's another way to look at it: a car accident occurred every 5.2 seconds, or more than 16,000 per day. If it does happen to you, of course, odds and probabilities will be the furthest things from your mind. When you're in a car accident, suddenly you're one of the "other people" and you're going to need help: financial help for certain, and possibly medical and emotional help, which inflict their own costs.
The pure economic cost of motor vehicle accidents in the United States in 2014 was $242 billion. That number shoots up to $836 billion when you take into account the comprehensive costs of accidents, such as the loss of quality of life and productivity for people who've suffered significant injuries. For many Americans, a motor vehicle is a critical element in their daily livelihood, making it possible to live and work as they please; losing it, or not being able to operate one for an extended period of time, can be a devastating blow.
Unfortunately, insurance companies aren't in the business of making it easy for victims of car accidents to claim damages. Even if you were clearly not at fault, understanding exactly what you are rightfully owed can be a confusing tangle of small print and legalese and can cost you thousands of dollars, as well as precious time that you should be using to recover from your accident.
If you've been in an accident, you need effective legal counsel from a personal injury attorney to ensure that you receive proper compensation so you can get back on the road again as quickly as possible. Contact one of the Pennsylvania car accident lawyers at Myers Lafferty as soon as you've been in a crash – or, even better, carry contact information on you at all times, in preparation for that day when the odds aren't in your favor.