A young reporter is found dead and a prominent Philadelphia businessman is accused of her murder in William L. Myers, Jr.'s debut novel, available April 1 on Amazon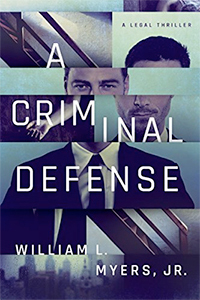 PHILADELPHIA (March 2017) – Myers Lafferty Law Offices, P.C. is proud to announce that the first novel by founding partner William L. Myers, Jr., "A Criminal Defense," will be published April 1 by Thomas & Mercer.
Publishers Weekly gave the book rave reviews: "In Myers' impressive debut […] the gripping plot builds to an ending that is a complete shocker."
"A Criminal Defense" reached the No. 1 ranking on Amazon in both the Kindle Store and the Mystery, Thriller & Suspense categories in the short time it has been available to Kindle First readers. The book is available for general purchase in paperback and Kindle versions on April 1. To find the book on Amazon, click here.
The novel focuses on a former Philadelphia prosecutor turned top defense attorney who finds himself in a precarious situation when his close friend and Philadelphia businessman, is accused of murdering a young TV news reporter. The book takes the reader on a thrilling ride through the case, the Philadelphia court system, and the personal entanglements that make this the case of McFarland's life.
A Philadelphia lawyer with 30 years of trial experience up and down the East Coast, Myers focuses his active law practice on transportation and personal injury law.
"My 25 years litigating in the Philadelphia-area court system inspired me to write this novel," said Myers. "I wanted to take the reader on an entertaining, suspenseful journey through Philadelphia and its justice system. 'A Criminal Defense' does that while also exploring the implications of this case on the characters' lives."
About Myers Lafferty: Based in Philadelphia, with offices in Boston and New York, Myers Lafferty is a personal injury law firm with a focus in FELA law. Myers Lafferty attorneys understand the physical suffering, financial peril and sense of hopelessness people endure when seriously injured by others, and the firm strives to obtain for clients' full compensation for the disruption to their lives, physical injuries, pain, loss of income, stress and strained relationships. To learn more, go to www.yourtransportationlawyers.com or connect with the firm on Facebook or LinkedIn.