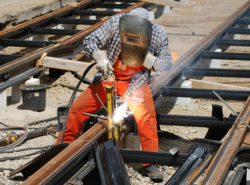 If you're a railroader who is hurt on the job, a lot goes through your mind when it happens. In the immediate aftermath of an accident, you may not be thinking clearly, and a hasty decision can lead to serious consequences down the road. Here's a list of essential dos and don'ts you should keep in mind if you suffer an injury while working on the railroad:
DO seek immediate medical assistance if your injuries are significant.
DO report the accident to your supervisor and fill out an accident report/injury form as soon as you are able. Even if your injury seems minor, delaying this act can result in lower compensation if your symptoms worsen, or the railroad could accuse you of falsifying your injury claim.
DO contact your union representative or attorney before speaking to railroad management about the accident (other than the initial reporting).
DO keep your own records of the accident. This includes copies of the accident report form, photos of the accident site and your injuries, and any written material you can think of that could be relevant to the accident, including the effects of your injuries and witness statements.
DON'T let the railroad coerce you into making a quick decision or a statement regarding the accident or whose fault it was. When you fill out the accident/injury report form, consider each question carefully and take your time to answer them.
DON'T let the railroad convince you that you need to be treated by a company-selected doctor. You may need to be examined by one of their doctors, but you can receive treatment from any doctor you choose.
DON'T permit railroad officials or management into the examination room with you. Even if you use a company doctor, they have no right to be there, as it violates doctor-patient confidentiality.
DON'T speak to a railroad claim agent without the aid of your attorney or union representative. Though they appear friendly and sympathetic, a claim agent's job is to save the railroad money. They will attempt to settle your injury claim in the manner that's best for the railroad – not for you.
DON'T let the railroad intimidate you or others with threats of discipline for reporting unsafe working conditions that led to your injury. Such action is illegal and can result in further action against the railroad.
And, of course, DO seek attorneys experienced with the Federal Employer's Liability Act (FELA) to handle your injury case. If you're injured on the job, they're your best bet for making sure you DON'T let the railroad off the hook for your pain and suffering.